Truax Builders Supply's highly-trained sales staff is looking forward to helping you with all your replacement and new construction window and door needs.
Integrity windows and doors by Marvin use structural fiberglass and solid pine to make these nearly indestructible and weather-resistant windows and doors.
A short two week delivery and many standard sizes have made Integrity clad wood windows and doors a popular option for new construction. Now they are also available in custom sizes!
They are also available in all Fiberglass doors and windows.
Click the link below to visit the Integrity website: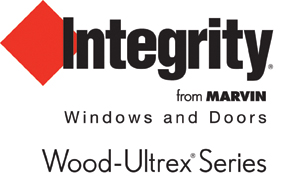 This website offers great information on the wide range of Integrity window and door sizes and options. Integrity Windows and Doors by Marvin give all the beauty of natural wood interiors with a weather resistant fiberglass exterior. They are also available in an all fiberglass version when a wood interior is not needed. Integrity windows and doors are produced in many standard sizes making it possible for delivery in two weeks or less. Integrity has recently added custom sizing for most of their product line. Integrity lead times are generally under two weeks. The strong, weather resistant, fiberglass surfaces are completely paintable.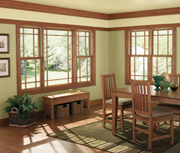 Several simulated divided light designs are available for Integrity windows and doors including this Prairie design. Internal grids are also available. As shown in the photo, multiple windows can be joined (mulled). For the ultimate in choice for sizes, color, and hardware options you may want to consider Marvin's Beautiful aluminum clad wood windows and doors.
Integrity double hung sash can be easily tilted in for cleaning as shown at the left. Double hung windows come with full screen, and optional grids and SDL's.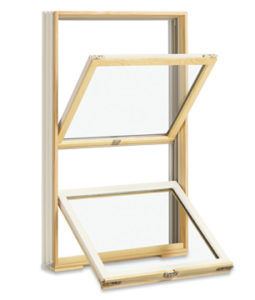 Here is another example of mulling several windows together to achieve a dramatic appearance.