To learn more about Marvin products click the logo below:


Truax Builders Supply is proud to be a Certified Key dealer and installer for Marvin Windows and Doors; we have well over 20 years of experience with Marvin's quality products. Marvin manufactures some of the best wood windows and doors on the market; both aluminum clad and all wood in many colors and wood species. One of their specialties is building custom wood windows and custom wood doors to exacting specifications. Marvin's products are well suited for use as replacement windows and doors as well as for new construction. Truax Builders Supply offers window and door replacement in the Portland area.
Marvin also produces Integrity Windows and Doors in both all fiberglass (Ultrex inside and out) and in fiberglass clad wood. Marvin is proud to offer two week delivery on all Integrity orders. Integrity windows and doors are now available in custom sizes which make them very useful for replacement of old windows and doors. The fiberglass Integrity windows can be painted any color on site without affecting their warranty. Truax Builders Supply is happy to offer quality installation of Marvin and Integrity windows and doors.
Click below for our INTEGRITY page.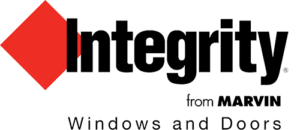 Most Marvin windows meet all the latest energy efficiency standards.
Marvin offers windows and doors in nearly unlimited design choices for shape, size and style to match any home design. Window styles include double hung, casement, side sliding, radius top, and fixed; and they can be factory mulled into a wide array of configurations. Marvin Doors come in a variety of swinging, and sliding configurations; and can be custom sized.
Wood windows and doors are available in bare pine, primed pine, and clear fir.
Aluminum clad wood windows and doors are available in VG fir, mahogany, cherry, and white oak as well as pine. The exteriors of Marvin Clad windows are available in white, bronze, brown, pebble gray, forest green, and many other colors.
Marvin custom windows and custom doors are available for remodeling, replacement and for special applications in an almost unlimited range of sizes.
Hardware comes in taupe, bronze, white, brass, antique brass, polished chrome, brushed chrome, and oil rubbed bronze as well as special order hardware for unique applications.
Double hung jamb liners are available in White or Almond.
Commercial windows and doors are also available.
Truax Builders Supply offers door and window installation in the Portland area.
Simulated Divided Lights give the pictured Marvin double hung windows a classic prairie style. Marvin can also match Colonial style, Craftsman style, Victorian style and many others. Marvin windows and doors are also available with optional internal grids or removable wood grids.
Many custom window options are available such as special glass, a wide variety of decorative trim options, custom sizes, and custom wall thicknesses.
Marvin's Signature program offers custom wood windows and doors that are normally only available from a specialty millwork shop. These include traditional weight and pulley doublehungs, push out casements, wood framed screens, inswing casements,and many other traditional options. Marvin can match most historic window designs and profiles, making them ideal for replacement and remodeling.