Beautiful Easy Care Fiberglass Doors
The beauty of wood with a carefree fiberglass exterior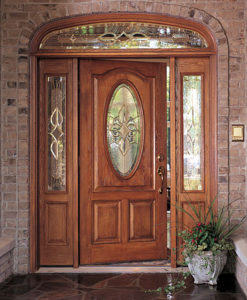 Fiberglass doors are ideal for many door replacement projects due to the many decorative designs, finish options, and entryway configurations. They are a great choice for high exposure areas where wood doors have not held up well. Of course, they are also perfect for new construction.
We keep many beautiful fiberglass doors on display to help you select the best doors for your needs and taste. They represent many of the design choices offered by the manufacturers listed below. Our friendly, informative, and helpful sales staff will be glad to walk you through the selection process whether you want to do-it-yourself or have us install your selection.  Our installers are polite, prompt, and neat, and have many years of experience.
If you are working with a contractor, we are always happy to assist you and your contractor select the perfect doors and windows for your project. Please don't hesitate to call or stop by with door or window questions. We are always happy to help.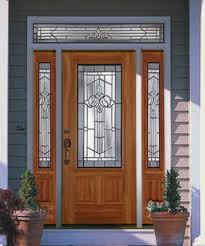 Click on the ThermaTru logo to visit our ThermaTru page:

Fiberglass Entry System
Therma-Tru fiberglass doors come in many styles, including craftsman, traditional, colonial, American, and contemporary designs. Several authentic wood grain options are available including oak grain, fir grain, and mahogany grain. Glass options include a wide variety of decorative leaded glass as well as clear glass. Fiberglass doors are tough, weather resistant, beautiful, and very energy efficient.
Smooth fiberglass doors are another popular option. They are perfect for doors you intend to paint, and are less expensive than fiberglass doors with wood grain.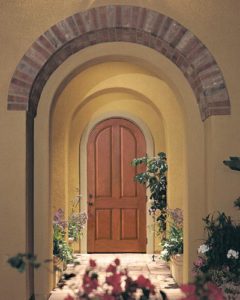 Therma-Tru also has a full line of steel doors from flush to full glass.
NEW! Therma-Tru American series Classic Craft Craftsman style fiberglass doors with fir grain! These Therma-Tru doors are hard to tell from solid VG fir, and they are more than five times more energy efficient than wood. These fiberglass doors come in a number of classic designs with a variety of decorative glass options. Therma Tru offers finishing kits in a variety of stains. Installation of one of these doors can greatly improve the curb appeal of any home.

Click logo above to visit our Codel page
Codel is another supplier of high quality fiberglass doors. They provide many choices for the discerning homeowner including some sizes not carried by other manufacturers. The smooth fiberglass door system pictured shows some of the sidelight and transom options offered. Codel has a wide variety of fiberglass door designs, wood grain options, and glass styles including Traditional style doors, Craftsman style doors, Shaker style doors, American style doors, and Contemporary style doors. Installation of one of these doors improves the street appeal, energy conservation, and resistance to weathering of your entryway. Fiberglass and steel doors are up to five times as energy efficient as wood doors. There are many simpler and less expensive designs for exterior doors on the side and rear of your home.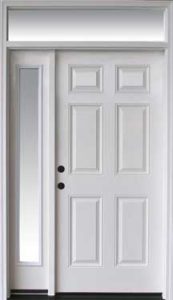 Codel offers a number of prefinish options for their wood grain doors, or you can finish them yourself.

Click the logo above to visit our Masonite Page
MASONITE FIBERGLASS
ENTRY SYSTEMS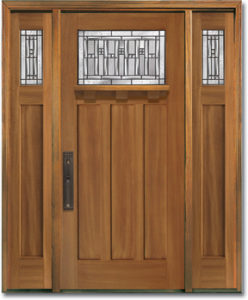 This is an example of the Masonite Barrington collection which is available in oak and mahogany grain. Masonite also has Oak grain and smooth paint grade doors in a wide variety of styles and glass options. Finishing kits are available in a variety of stain colors. You will find many other designs shown on the website above.