Truax builds storm and security doors here in our shop.  We also retail storm and security doors from Larson Doors.
Truax Storm and Security Doors
Manufactured in the Northwest for Northwest Conditions! These strong and attractive storm doors and security doors are perfect for the tough conditions in the northwest. Call us today for a quote on your doors. Custom sized storm doors are a specialty of Truax. Door installation is available in the Portland, Oregon area.
MODEL 60SX SECURITY DOOR FEATURES: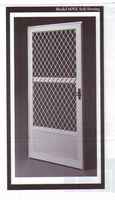 Heavy gauge security mesh
Self storing glass panels
Screen can be at top or bottom
Superior deadlocking lever latch
Thumb turn keyed cylinder
Revolutionary 5/16″ thick kickplate
Extruded 1 3/8″ thick aluminum frame
Heavy duty tamper proof hinges
Corrision resistant charcoal fiberglass screening
Tempered safety glass
Steel corner reinforcement
OPTIONS:
Custom sizes up to 48″ x 96″
French door configuration
Bronze or white baked on finish
Keyed alike cylinders
Search terms: Storm doors Oregon, Security storm doors, Aluminum storm doors, Custom storm doors, Security doors, custom storm doors, custom security doors, americaqn made storm doors, storm doors Portland
MODEL 70SX SECURITY DOOR FEATURES: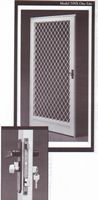 Heavy gauge security mesh
Removable glass insert with full screen
Superior deadlocking lever latch
Thumb turn keyed cylinder
Revolutionary 5/16″ thick kickplate
Extruded 1 3/8″ thick aluminum frame
Heavy duty tamper proof hinges
Corrision resistant charcoal fiberglass screening
Tempered safety glass
Steel corner reinforcement
OPTIONS:
Custom sizes up to 48″ x 96″
French door configuration
Bronze or white baked on finish
Keyed alike cylinders
MODEL 60 AND 70 STORM DOORS: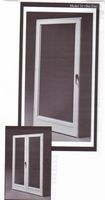 Similar to the SX doors without the security mesh
Standard with a push button latch
OPTIONS:
Locking security lever lock
French door configuration
Bronze or white baked on finish
Security lever lock
Keyed alike cylinders
Custom sizes up to 4′-0″X8′-0″